Cost of Dental Emergencies – Oklahoma City, OK
Fast, Affordable Emergency Care
When you're suddenly faced with a dental emergency, the last thing on your mind is the financial aspect of treatment. Instead, your mind is typically plagued with thoughts of pain, panic, shock, and confusion. Usually, you don't end up considering the price of your treatment until you're on your way to your dentist's office. Rest assured that your Oklahoma City dentist, Dr. Joe Isaacson, will care for your oral health in a way that doesn't break the bank. His first priority will be to get you out of pain so that you can make any financial decisions with a clear head. Keep reading below to learn more about how the cost of dental emergencies can vary. If you're still curious, you can always give us a call.
Why Choose Joe Isaacson Dental for Emergency Dentistry?
We Offer Calming Sedation Dentistry
Same-Day Appointments Available
State-of-the-Art Dental Technology for Added Comfort and Efficiency
Factors That Influence the Cost of Emergency Care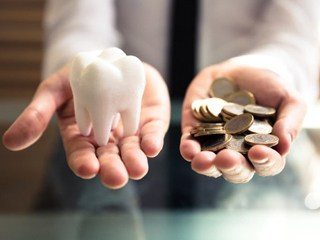 Unsurprisingly, most dental emergencies will end up costing more than a regular checkup and cleaning. However, keep in mind that there are several factors that can affect how much you'll end up paying for treatment, such as:
Location: If your dental office is in a larger city or a place with a high cost of living, you can expect to pay a little more for emergency care.
Dental insurance: If you have dental insurance, they will usually cover at least a portion of emergency care, lowering your out-of-pocket costs.
Type of treatment: Depending on the kind of restorative care that you need to remedy your emergency, the cost will vary. So will the level of coverage by your insurance carrier.
Financial Options Available
At Joe Isaacson Dental, we accept most major network insurance providers and are even happy to file claims on your behalf, so you don't have to do the paperwork. If you don't have dental insurance, we partner with CareCredit, a third-party financing option that allows you to fund the care you need at little to no interest. We also offer a savings plan called DentPlus, a plan with low monthly payments that saves you lots of money on all kinds of dental care, not just emergency treatment.
Importance of Scheduling an Appointment
Because there is no set cost of emergency care, it's imperative that you come in for a consultation for treatment as soon as possible. At this appointment, Dr. Isaacson will thoroughly examine your mouth to determine the severity of the problem. If you have dental insurance and require only minor restorative treatment, like a filling, you might be covered at up to 80% of the cost. However, if you need major restorative care, such as a root canal or tooth extraction, you might only be covered up to 50%.
Again, it's crucial that you examine all factors when undergoing treatment for a dental emergency. However, it should never stop you from receiving the care you urgently need. Our team is here to help and will do our very best to minimize your out-of-pocket costs and get you out of pain as quickly as possible.