Children's Dentistry – Oklahoma City, OK
Gentle Care for Developing Smiles
A lifetime of healthy smiles begins when a person is very young. Regular preventive care, a supportive dentist, and parents who are committed to healthy habits all go a long way in ensuring a child's smile remains in good shape well into adulthood. If you're looking for a practice that can help your little one's smile grow, look no further than Joe Isaacson Dental. As an award-winning children's dentist in Oklahoma City, Dr. Isaacson has extensive experience treating young smiles. To schedule your child's first appointment, call us today!
Why Choose Joe Isaacson Dental for Children's Dentistry?
Skilled, Friendly, and Experienced Team
Modern Digital Technology for Superior Diagnostics
Affordable Financing Available
Dental Checkups & Cleanings for Kids
We recommend that your child attend their first dental visit by their first birthday or soon after their first tooth erupts. This appointment will give our team an opportunity to educate you on how to care for your little one's budding smile. It also helps them become comfortable with our office environment. As your son or daughter grows, their routine visits will change to meet the unique dental needs of kids their age. Eventually, these appointments will closely resemble your own, with a detailed exam followed by a professional teeth cleaning.
Dental Sealants
The teeth toward the back of the mouth, called molars, are often particularly vulnerable to decay due to the pits and grooves in the enamel. Plus, children may not be able to successfully reach them when brushing. As a result, food can get trapped in the crevices and attract cavity-causing bacteria. That's where dental sealants can help. Your kids' dentist in Oklahoma City can paint a thin layer of composite resin over the molars, which rapidly hardens into an invisible barrier that shields the tooth from food debris, bacteria, and plaque. The procedure is quick and painless, and the results can last for about a decade.
Fluoride Treatments
Also known as "nature's cavity fighter," fluoride has been added to most oral care products and public sources of drinking water. When applied to the teeth, fluoride strengthens the enamel against decay and can even reverse the early signs of a cavity. Our team can greatly reduce your child's risk of tooth decay with regular fluoride treatments. At the end of their checkup and cleaning, we can briefly coat their teeth in a fluoride varnish to ensure they stay cavity-free in between appointments.
Sportsguards for Children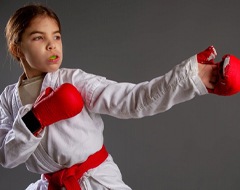 You're probably diligent about making sure your child wears their helmet to sports practice. Why not extend that same level of protection to their smile? We can create a personalized mouthguard that fits snugly over the teeth to protect against injury due to impact. Not only does this custom fit feel more comfortable and provide more protection than store-bought mouthguards, but we can also create one with their school colors!